In need of an instrument repair?
Stop by our store and get a free estimate from our in-store technicians!
Quick and reliable musical instrument repair.
The first choice for professionals, teachers, and students alike, Paul Effman Music's in-house repair shop provides comprehensive musical instrument repair to get you playing again as soon as possible.
In consideration of the COVID-19 pandemic we now take additional steps in our repair process out of an abundance of caution.
Prior to COVID-19 we always took special steps to ensure instruments were sanitized to avoid the spread of any germs. Mouthpieces have always been sanitized in our ultrasonic machines, and instrument bores cleaned out with disinfectant.
NAfME under guidance of the CDC now suggest some additional steps be taken:
Instruments must be quarantined for one week when entering our repair shop.
Instruments must also be quarantined for one week after repair, prior to being picked up.
What does this mean?
We've essentially always exceeded the current COVID-19 guidelines on instrument repair, however the quarantining is an extra step to ensure there is absolutely no possibility of any virus transferring from an instrument to a technician or vice-versa. While COVID only lives on most surfaces for a few days we aren't taking chances and choosing to wait a full week.
However, our usual quick turn-around time on repairs is now extended as a result of the two-weeks of quarantining.
Loaner Instruments and COVID
We've always provided quality loaner instruments at no charge for any repair and typically have good availability of loaner equipment. As a result of the quarantining (which also applies to loaner instruments), we've allocated additional inventory to our loaner pool and will do our best to meet the demand.
Knowledgeable Technicians, In-Store Service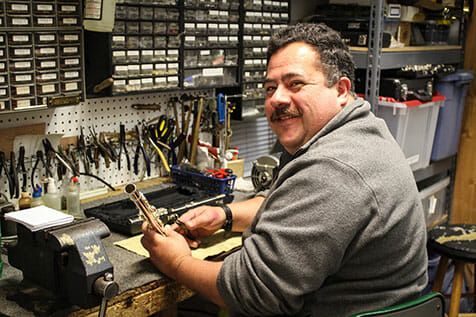 Our expert NAPBRT certified instrument repair technicians will ensure your instrument is back in perfect playing condition in no time.
We perform all instrument repairs in our in-store repair shop instead of shipping it out to another location, saving you time and money.
We provide free, brand name loaners for all repairs, so you're never without an instrument. These loaners are provided for free when you bring your instrument in for repair.
Note: loaners are subject to inventory availability. As we are quarantining all instruments for a week between uses, inventory may be lower than usual, but we have added more instruments to the loaner pool to meet demand.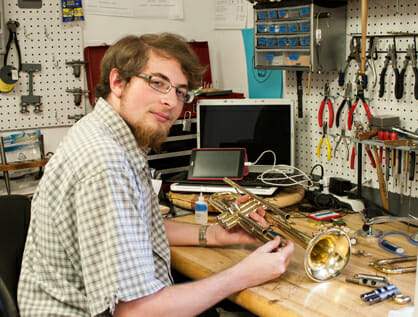 The ultrasonic cleaner uses high-frequency sound waves to clean and lift dirt, grime, and corrosion from the metal while sanitizing the instrument. This machine has become an essential part of our repair process, allowing us to safely and efficiently repair instruments without the use of harsh and dangerous chemicals. Ultrasonic cleaning technology is utilized across a wide-range of industries including the cleaning of medical tools.